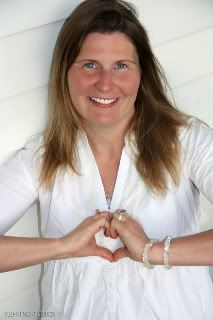 "GO LOVE!" Alicia Tucker

Alicia is a mother of 4 beautiful children, married to an enduring
husband for nearly 15 years and a never ending
brood of animals coming and going from her home.
Life in the Tucker household is never dull with daily challenges ensuring she
deeply understands what she shares and guides for others lives!
'Living within the vibration of LOVE'
Her list of qualifications is quite lengthy but if you would like to read them all
please do at the bottom of the page! 
Her Video of her Own Story is Hopefully what you will enjoy!
Alicia's Personal Story

Alicia Tucker's Angel Journey

Alicia Tucker has been seeing & being guided by Angels
since she was a very young child and
believes herself to be an early Rainbow Crystal Child or Indigo. 
She has always had  strong intuitive guidance or what some may call 'psychic' abilities from a young age.  She feels that everyone has inner intuitive guidance but most have been taught not to use it!

She learned from an early age that everyone around her ignored or
didn't have some of her 'special gifts'.  She soon learned how to
'cover up' her special gifts so she could just live a 'normal'  life. 
She has in the last few years met many others, who had
similar life experiences to herself, and also had similar
'awakenings' in their lives.
  The angels only real message for us all to hear and to explore Alicia always says "is simply to learn how to live in the love vibration each & every day, to love everyone, to forgive, to understand, to bless everyone & to be grateful for all that is around us each & every day & know all is always provided for at the divine time & divine moment!" -Alicia Tucker 
 "Be Gracious Daily... Be Joyful Daily... Be LOVE Daily"
♥ Alicia Tucker
Alicia's Life Experiences
♥  BA Bachelor of Arts from the University of Texas
♥  'Au'lele Be Love'™ Course Creator  A course & journey for you & your heart 
♥  'Alija'he'™ a philosophy with modalities that offer optimum energy balancing
♥  'Aquarian Therapy'™ Mists & Therapies transformational energy mists

♥  Author of "Love=Money=Me=Money=Love" and "Water with Love"  
♥  Founder of 'The Scrapbook House'® Creating memories for generations

♥  Founder of Angelic Fleur® Importing flowers from around the world
♥  QVC & Ideal World Guest Presenter
♥  Guest Presenter for all types of Events!
♥  ATP® certified by Doreen Virtue & ACP® certified by Charles Virtue
♥ Entrepreneur
♥ Brand Advisor
♥ Reiki Master  ♥ Crystal Therapist  ♥ Sports Trainer
♥ Personal Trainer
♥ Aerobics Teacher
♥ Meditation Trainer
♥ Happy Houser
♥ Angel Intuitive
♥ Energy Healer
♥ Medium Guide
♥ Scrapbooker
♥ Cardmaker
♥ Out of Body Teacher & Trainer
♥ Ascension Specialist
♥ Angel Expert
♥ Family Meditator
♥ Child Development Coach
♥ Home Schooling and Traditional Schooling
♥ Charity Fundraiser

Alicia's passions are her Children, English Country Walks and a
Deep water swims with Dolphin Pods!
"The universe is vast and you are part of it, so you too,
are a vast being!  
Discover the Limitless you.  
Release, let go & let your heart be filled with love."
 Alicia Tucker